In my workshops lately, I have been doing a lot of 3x3 cards. They are great for just a note, to put on a present or just send off as a thank-you. Well Heather over at
Stamp with Heather
has a challenge this week to take a 3x3 card and make it into a standard size card. I'm thinking, how awesome is this. I have (8) 3x3 cards from one workshop and (4) 3x3 cards from another workshop. I'm up for this challenge. She also has a sketch challenge out there this week. So, what do I think. Humm.... use the sketch and make a progressive card. Here is Heather's sketch and my progressive cards.
Here is where it started, 3x3 card.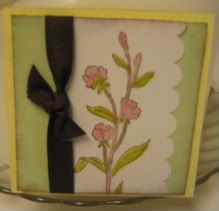 This is how it ended up.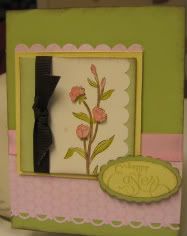 Card recipe: Stampin' Up stamp set 24/7
Mellow Moss, Barely Banana, Easter DSP, Cameo Coral Ink, Certainly Celery Ink, Chocolate Chip 1/4 in grosgrain ribbon, pretty in pink satin ribbon. I also cut out the little flowers in the standard size card and popped them up with pop dots.
I hope you enjoy.