Last year I saw this posted on the Message board and saved the link for this year. I had so much fun making it. Lisa This is the altered paint can. It's a teacher survival kit I got from the Cricut Messageboard last year. Here is the link
Teacher Survivial Kit
.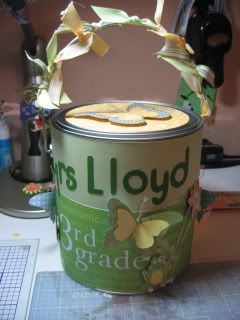 Post -its - "To remind you that this class sticks together"
Pencil - "You are one sharp teacher."
Lifesavers - " Some days you are one, and some days you need one."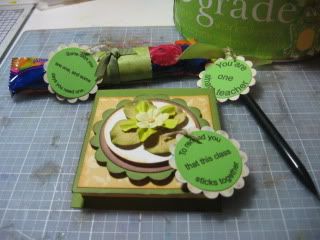 Gold Fish Crackers - " Open when you've ofFISHally had enough."
Gum - "To remind you that you are worth a MINT."
Kleenex - "To wipe the tears..... yours and theirs."
Starburst -"To give you a burst of energy when you need it."

Hershy Bar with almonds - " Open in case of a chocolate emergency for when they're driving you nuts."
This is a stationary set for his EIP teacher.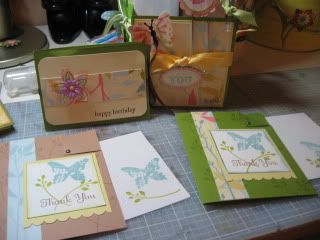 These are post it note for his specials teachers. (PE, Art, Music, Computer)